The 2022 Subaru Love Promise Community Commitment Award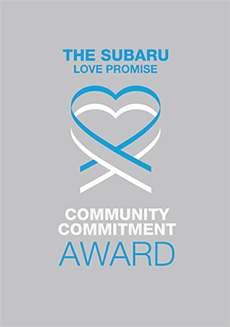 We've been nationally recognized for our dedication to our community and the Subaru Love Promise.
We're honored to receive the 2022 Subaru Love Promise Community Commitment Award. This award nationally recognizes Subaru retailers who are making the world a better place while demonstrating an outstanding commitment to supporting passions and causes in local communities. These efforts are focused in important areas such as the environment, community, health, education, and pets.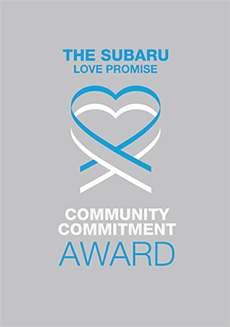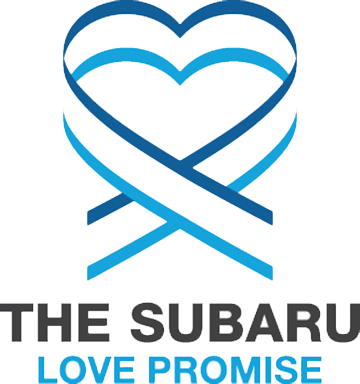 What is the Subaru Love Promise?
Subaru and our retailers believe in making the world a better place and the Subaru Love Promise is our vision of respecting all people. This is our commitment to show love and respect to our customers and to work to make a positive impact in the world.
How is Reedman-Toll Subaru of Exton dedicated locally to the Love Promise?
Our Love Promise can be seen in various partnerships with local charities and non-profits. We're grateful for the opportunity, not only to be a part of our community, but to serve it as well.
SUBARU LOVES THE EARTH TERRACYCLE INITIATIVE
East Ward Elementary School
Safe Harbor of West Chester, ADAGP Driving Away the Cold
Love Promise Stories from Reedman-Toll Subaru of Exton
Subaru and Reedman-Toll Subaru of Exton believe in making a positive impact on the communities in which we live and work. We uphold that belief through our Love Promise Community Commitment. Every month, we select inspiring stories from customers and partners from around our area who strive to support our collective commitment and feature them here
Sharing the Love with those in need - Tricia D
Reedman-Toll Subaru of Exton and Subaru of America were proud to be able to spread the love a little further this year by helping a 3 different locations that provide services for people in need. The original organization that we had partnered with was unable to take all of the blankets that we wanted to donate, strictly due to the lack of storage space at their facility. We were able to reach out and help two other organizations in our area who were happy yo take the remaining blankets to distribute to their clients. We are proud of our new partnerships with Safe Harbor of Chester County, Friends Association (Chester County) and North Star of Chester County.
---
Reedman-Toll Subaru Loves Pets - Valerie D
Thank you to Reedman Toll Subaru of Exton for making Brandywine Valley SPCA their local shelter partner for Subaru Loves Pets month in October! As their nominated shelter, the BVSPCA will receive a $100 donation for each pet adopted during that month (up to 31 adoptions). Jax (14) and Moo (10) were two dogs adopted in October, and what we would identify as "underdogs". Senior dogs, Jax and Moo, came into the shelter together when their owner passed away and they found themselves without a home. It can be a challenge to find a senior dog a home, let alone two senior dogs who relied on one another. We couldn't imagine them being apart, especially with all they had already been through, so they would have to be adopted together. A wonderful person came along and adopted both Jax and Moo. They now have a loving home where they can live out their golden years, together. The power of adoption is a beautiful thing, and we're very grateful to Subaru and Reedman Toll Subaru of Exton for being amazing advocates for rescue and adoption!
---
A Hug in a Blanket... - David J
As a homeless shelter serving single men and single women, we are able to provide housing, food, showers, laundry and support services to our residents. But a lot of people don't know that we also help the community on a daily basis with our Community Lunch Program. Every day, members of the community, not just residents, can stop by for a free lunch. They can also select items from our pantry. We typically have a selection of canned goods, baked goods, bread, meat and vegetables that people can select and take home to supplement their pantry. Sometimes we have house hold items that we can offer as well. Things like toothbrushes, jackets or socks. But our community members have grown to anticipate the arrival of the Subaru blankets! These blankets are like a hug to our community members. We love sharing these with our residents and giving them out to other homeless people as well. Just to be clear, as hard as we try and encourage the street homeless to seek shelter and come indoors, sometimes they just won't do it and we can't force them. At the least, we along with Subaru Shares the Love can offer a warm blanket for them to use in the cold. Thank you Subaru!
---
Sharing the Love and Comfort - Mary Lynn A
Reedman-Toll Subaru has supported the Auto Dealers CARing for Kids Foundation's New Coat Program since 2009, providing the gift of a new coat to hundreds of local children in need. New coats provide warmth and confidence to children living in poverty. They also relieve a burden for caregivers. Here is a thank you from Kathy and her 9-year old daughter: "It is something that my daughter needs right now and I am not in the position to buy. This coat allows me to breathe a sigh of relief knowing that my daughter has what she needs. I am very appreciative of what you do each year to ensure that children and families have what they need. Thank you for your support!"
---
Subaru Loves Care - Tricia D
In hospitals across the country, patients battling cancer are in the fight of their lives. They need hope. They need love. They need to know that there are Subaru retailers who care about them during this difficult time. Since 2016, Subaru of America has partnered with The Leukemia & Lymphoma Society (LLS) to provide love and hope to patients going through challenging cancer treatments as part of our Subaru Loves to Care Initiative. In June, we continued our partnership with LLS in supporting over 40,000 cancer patients nationwide by mailing blankets and message of hope cards written by us here at Reedman Toll Subaru of Exton and our customers directly to their homes in our area. We hope these blankets and cards will spread warmth, love, and hope where it is needed most to let these patients and their families know we care.
---
The Lost Wallet - Trina H
A few weeks ago I found a wallet in a shopping center parking lot. It was raining heavily that day, and luckily the wallet was dry, so I knew it wasn't there long. Inside the wallet was an ID, money, a Covid vaccination card, a personal business card, credit cards and a business card for Chad Vail, Sales for Reedman Toll Subaru. I tried to call the number on the personal business card, but it was an office number, and being a Saturday I knew I wouldn't reach the person until Monday. I also sent an email to the email on the card, but again, thought I wouldn't hear from them until Monday. I decided to call Chad to see if he could reach the wallet owner. When I called, Chad answered, and he was so helpful in listening to me. He took my number and was able to reach the wallet owner. About 30 minutes after speaking with Chad, the wallet owner called me, and I returned the wallet in tact! Chad's help prevented the owner from "missing-wallet panic", and saved them from the effort to replace all of the important items in the wallet, including their Covid card. Chad went above and beyond to help someone in a way that is completely unrelated to selling cars. He did a great service for someone, and I will never forget it. Thank you Chad!
---
How I met Marley and Subaru❤️ - Lynne M
I attended a Subaru Share the Love event where Brandywine SPCA volunteers brought dogs and a few cats to the dealership in hopes of finding a home for them at Christmas time. Not only did I fall in love with Marley at first sight, I fell in love with Subaru and everything they stand for. I'm now the proud owner of a Subaru & doubt I'll ever look back. Without that event we would have never met Marley/"Marmie",,,that's just our story,,, ❤️Subaru and Brandywine SPCA
---
Driving Away The Cold - Mary Lynn A
I'm writing with a sincere thank you for the time, effort and financial resources you have dedicated to our Driving Away the Cold new coat program. The support from our dealer members was needed more than ever this year and its impact is palpable. With your help, we gave the gift of warmth and confidence to 53,928 local children in need and your Auto Dealers CARing for Kids Foundation is recognized as a force for good in the Philadelphia area. From me and the 250+ non-profits and school districts that distributed our new coats, we give thanks to you for helping us give more coats, and more smiles, than ever before. I wish you a wonderful Thanksgiving weekend. Be well!
---
Reedman-Toll Subaru of Exton Loves to Help - John S
Through our Love Promise, a commitment to support our local communities, Reedman-Toll Subaru of Exton is supporting Safe Harbor of Chester County to help people in need this winter season. More than 500,000 Americans experience homelessness each night. This November, as part of Subaru Loves to Help and in recognition of National Homeless Youth Awareness Month, Subaru and Reedman-Toll Subaru of Exton will be donating blankets to local homeless shelters across the country to help youth and all people who are without homes. As we enter the season of giving and nights get colder, we want to do our part in making a difference to those who need our help.
---
Subaru Loves Pets - Miss Cleo - Valerie D
Thank you to Reedman Toll Subaru of Exton for nominating the Brandywine Valley SCPA as their hometown shelter to receive funding during Subaru Loves Pets month! We are so grateful that Subaru has a special interest in helping shelter animals get adopted, especially the "underdogs". Underdogs are the hard-to-adopt shelter dogs that have special needs; dogs that may need some extra support to help them get adopted. One such underdog, is Miss Cleo. Miss Cleo came to the Brandywine Valley SPCA in heartbreaking condition, and with an unimaginable story. Suicide took Miss Cleo's dad, her mom found him that day and had a debilitating stroke, and then the daughter passed away shortly after. At 12 years old, Miss Cleo desperately needed a break. Given the condition Miss Cleo arrived in, we can't imagine what she had been through in her past life. She would need an adopter who could look past her matted fur and skin sores, and see the precious girl she truly was. She would need a quiet, loving home to help her heal – a home where she could live out her golden days. Miss Cleo found her happily ever after on the last day of October, aka the last day of Subaru Loves Pets month. Thanks to the awesome folks at Reedman Toll Subaru of Exton, the majority of Miss Cleo's adoption fee was covered. It was a happy ending for all, and we are truly thankful!
---