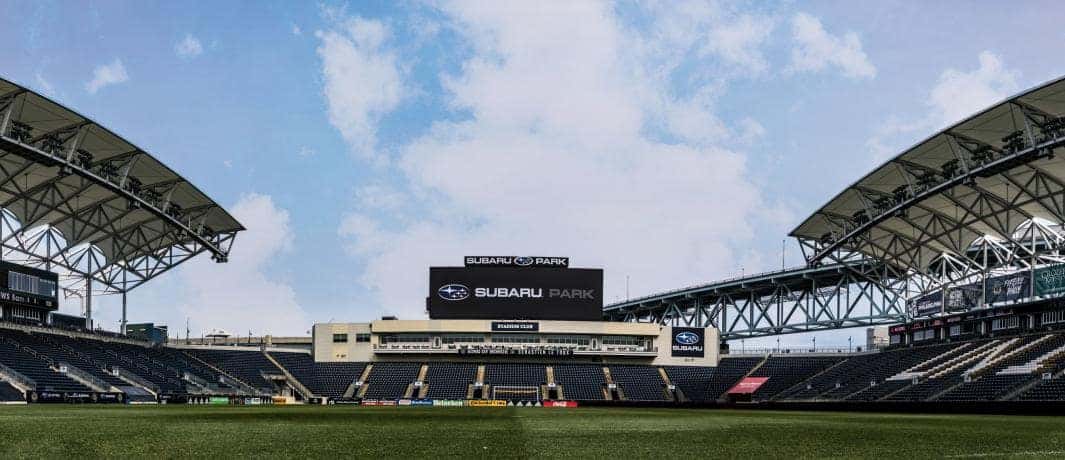 A partnership for the Love of the Greater Philadelphia Area Community.
When organizations come together over a shared belief in the power of good, we all win. The Subaru Love Promise is a vision to show love and respect to all people. Through this Love Promise, Subaru of America, Reedman-Toll Subaru of Exton, and the Philadelphia Union are teaming up to make the Philadelphia community a better place. Subaru has shown a commitment to improving lives and being a positive force in our community, not only with donations through the Subaru Share the Love® Event, but also with actions at Subaru Park that set an example for others to follow.
The Philadelphia Union believes in using the power of soccer to inspire youth to lead active lives and to build confidence and character. They are dedicated to igniting a passion, cultivating a "team player" mentality, and modeling skills through coaching and leadership that extend beyond the soccer field. Whether it's through protecting our environment, fighting hunger, caring for those in need, uniting pets with loving homes, or supporting the well-being of our youth, this partnership combines our efforts to further the love of our greater Philadelphia community.

Commitment to being zero landfill.
The first zero landfill soccer stadium in MLS.
With the Philadelphia Union's innovative, forward-thinking initiatives and Subaru's long history of environmentalism and zero landfill expertise, the Union, and Subaru of America have made Subaru Park the first zero landfill soccer stadium in Major League Soccer. To achieve this, Subaru Park reduces, reuses, and recycles more than 90% of its waste with the remaining waste converted to energy, thereby putting nothing into landfills since officially declaring zero-landfill status in 2021. By creating in-stadium messaging and an easy system for fans to sort their waste, Subaru and the Union cut the amount of waste each fan generated in half and increased the amount of waste fans recycle five-fold. Helping keep trash out of landfills is just another way Subaru of America lives up to its commitment to support the Philadelphia community through its partnership with the Philadelphia Union.
With increased fan participation and support, within an average year, Subaru Park and the Union will divert approximately 357,480 pounds of waste from local landfills. To put this into perspective, this is equivalent to:
A Philadelphia cheesesteak that's 19 miles high and 50 miles wide
The weight of 357,480 soccer balls
The height of 20 Mt. Everest's worth of stacked aluminum cans
To do this, we educate our spectators on how to sort their waste. To see how you can help continue our zero landfill mission when you attend a Union match, watch this video.
Subaru of America and Reedman-Toll Subaru of Exton Subaru support the greater Philadelphia area community through our Love Promise: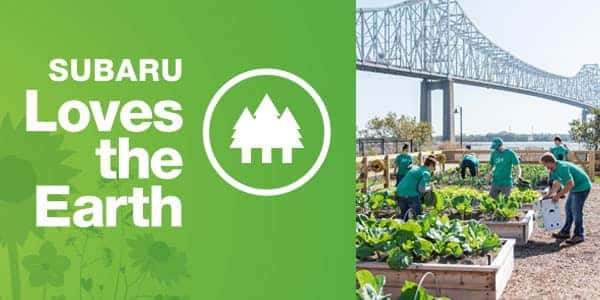 Subaru Loves the Earth: A focus on creating a more sustainable environment for fans and the Philadelphia area by growing and donating food to the community.
Subaru Loves the Earth
Good grows here.
With the goal of creating the most sustainable environment for fans and the Philadelphia community, Subaru Park aims to grow good food and waste less. Subaru created the Garden for Good, the first organic garden at a Philadelphia professional sports stadium that grows fresh fruits and vegetables that are then donated to local Chester communities in need.  This garden, full of fresh produce, is cared for and maintained by the Pennsylvania Horticulture Society and Subaru employee volunteers. With the goal of providing fresh produce for donation to food banks in Chester and Philadelphia communities, this garden has harvested a total of 3,035 pounds or 12,000 servings of home-grown organic food for the Chester community. Over the next year, Subaru and the Union hope to donate over 25,400 servings of organic food and vegetables to Chester and Pennsylvania food banks.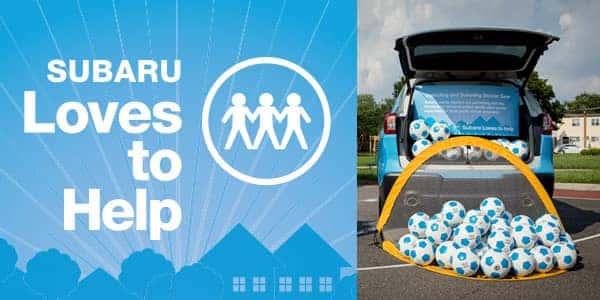 Subaru Loves to Help: An effort to provide underserved communities with the equipment and resources kids need to become more active and experience the game of soccer in and around the city.
Subaru Loves to Help
Bringing the love of the game to every part of greater Philadelphia.
By bringing activities, equipment, and passion for the game of soccer to Philadelphia and the surrounding communities, Subaru and the Union are partnering to provide opportunities for everyone to experience the greatness of soccer.
Gear for Good
The Gear for Good initiative offers sports supplies and soccer equipment to Philadelphia communities that need it most. To date, over 700 items from Subaru and its retailers have been donated and distributed throughout the city, along with hundreds of hats and blankets at events like the City Team Chester Block Party.
Love Promise Playmakers
Selected by local Subaru retailers, these individuals have made a difference in their community and are honored at Union games.  Winners recognized at Philadelphia Union games receive 4 suite tickets for the Subaru Suite as well as an authentic Union jersey with their name and number.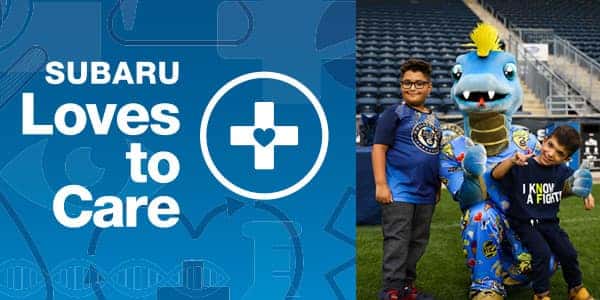 Subaru Loves to Care: A commitment to support children battling cancer by raising awareness and providing memorable moments.
Subaru Loves to Care
Joining the fight against childhood cancer.
Fearless 43: Raising awareness of the difficulties of childhood cancer and spreading smiles by creating special, memorable moments.   Nearly 43 children are diagnosed with cancer every day. The Philadelphia Union's Fearless 43 initiative works toward creating memorable moments for children and their families who are battling cancer by inviting 43 families to experience Subaru Park. Subaru has helped these families by providing visits to 13 games throughout last season, offering premium seating, an on-the-field experience with the players, and a donation of over 300 blankets for the Kick Childhood Cancer/Fearless 43's movie night.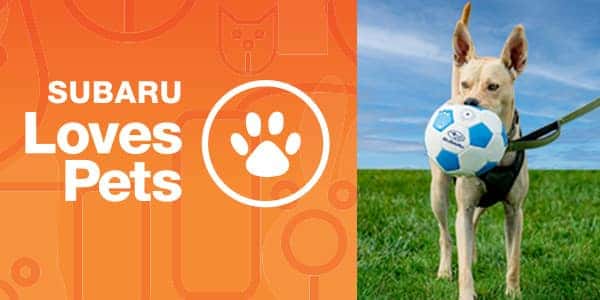 Subaru Loves Pets: A mission to unite pets with loving homes by hosting pet adoption events at Subaru Park and helping local animal shelters by collecting and donating pet supplies.
Subaru Loves Pets
Celebrating our furriest fans.
With a mission to unite pets with loving homes, Subaru and the Union support local animal shelters by collecting pet supplies and hosting pet adoption events at Subaru Park.
Gameday Pups
In partnership with the Philadelphia Society for the Prevention of Cruelty to Animals (SPCA) and Providence Animal Center, Subaru and the Union highlight four adoptable Gameday Pups dogs at each game. And alongside Make a Dog's Day Fest, where 17 pet organizations gathered at Subaru Park with over 100 adoptable dogs to a game, these programs have resulted in 200 dogs being adopted over last season.
At Subaru Park, Subaru owners get perks and a chance to give back.
Preferred parking access for Subaru drivers
Special Subaru events and exhibits on the Plaza (2 hours in advance of the game)
Access to adorable adoptable dogs on game day
Subaru. More Than a Car Company.®
Contact us at 610-269-8201 for more information
Subaru of America and the Philadelphia Union Partners in supporting the Greater Philadelphia Area Community